About Us
NairoBits Trust is a Kenyan non-profit that leverages ICT to empower disadvantaged youth from the informal settlements of Nairobi. We offer alternative higher education programs that unlock careers in tech through digital skills training and professional integration with the labor market.
Our programming is based on a two pronged strategic approach i.e. Enhancing the capacity of underserved youth to increase their readiness for them to make gainful advantage of the digital age and; Promoting the creation of opportunities and utilization of available ones in the ICT sub-sector.
These strategic approaches are the backbone of our programs ranging across technical skills on digital literacy, acumen building and creating wholesome subsector change through advocacy on the digital divide across marginalized groups.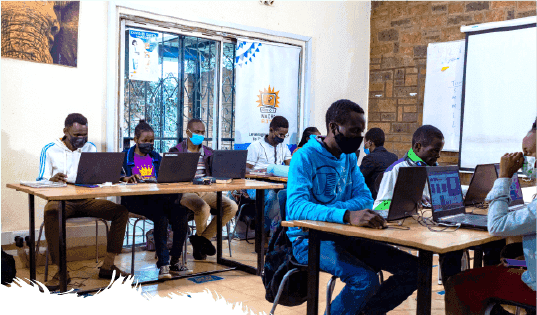 Our misson

Empowered and transformed youth who positively impact the societies.
Our vision

Harnessing ICT to place youth at the center of societal engagements and solutions
Our core values

Benevolent (kind and helpful)
We place emphasis and great concern for others' welfare (i.e. helpful, forgiving. responsible, loyal, true friendship, mature love) to promote cooperative and supportive social relations.
Intergrity
We are honest, impartial and trustworthy at all times with our colleagues, students and all stakeholders, delivering services fairly and objectively free of discrimination or preferential treatment.
Transformative
We commit to undertaking an overarching cultural and purpose-led transformation within and without NairoBits.
Solidarity with communities & Accountability to society
We strive to willingly give ourselves for the good of our community, especially the disadvantaged youth. We recognize that we are true representatives and guardians of the youth and others from disadvantaged and informal settlements in our society.
Explore NairoBits operations and programming